When you come to McDonald Family Dentistry for bonding in Urbandale, IA, you'll only have to sit through a single-visit procedure—it gives you a quick, inexpensive solution for a more attractive smile. Bonding creates a smile that appears more symmetrical and space-free, masks the most stubborn stains and discolorations, and is ideal for repairing slight chips or misaligned teeth.
Bonding may not be as long lasting as porcelain veneers or crowns, but, with proper care, it can prove to be quite durable.
Dr. Chris McDonald can quickly and skillfully repair minor dental flaws like chips or spaces with a simple dental procedure known as bonding. Bonding involves applying and shaping a custom-colored resin to imperfect teeth and hardening it with a special light. Our patients love dental bonding because it does not require a lot of time spent in the dental chair, and it instantly creates a more beautiful smile.
What Can Dental Bonding Treat?
The resin bonding material is similar to that used to fill some cavities — only instead of repairing a decayed tooth, it hides small aesthetic imperfections.
Dr. McDonald commonly uses dental bonding to cover up small tooth chips, cracks or stains. He can use the bonding material to lengthen an abnormally short tooth, widen a narrow tooth or camouflage uneven tooth edges. Dr. McDonald can even use the bonding material to reduce or hide gaps or spaces in between the teeth.
Dr. McDonald does not use dental bonding to make major corrections to damaged or decayed teeth. The bonding process is not a suitable fix for big tooth cracks or fractures, or serious spacing or alignment problems. Other cosmetic or restorative dentistry solutions like veneers, crowns or orthodontics may be more appropriate in those cases.
How Bonding Treatment Works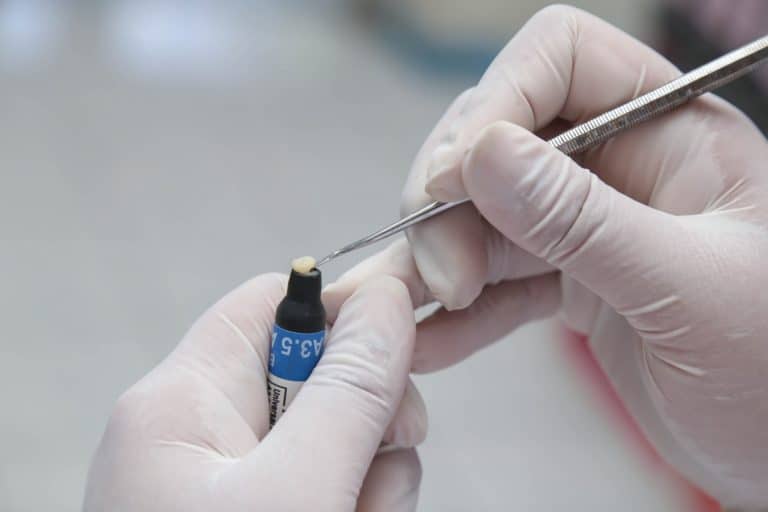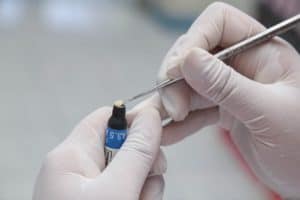 Bonding can usually be completed in a single appointment. The affected tooth is numbed so that there is no pain or discomfort during treatment.
First, Dr. McDonald uses a shade guide to select the appropriate color of the composite resin material so it blends in with your surrounding tooth structure and adjacent teeth. Dr. McDonald lightly etches the affected tooth and covers it with a bonding solution to help the composite resin material better adhere to the tooth. He paints the bonding material onto your tooth in thin layers, shaping and sculpting it as he works. Dr. McDonald hardens the bonding material with a special light. Once the material has hardened, he can make any last-minute tweaks that are needed. Finally, Dr. McDonald polishes the bonded tooth so it looks translucent, like a natural tooth. When he is finished, you should not be able to tell the difference between the bonding material and your natural tooth structure.
Care and Maintenance after Dental Bonding
You should brush and floss your bonded tooth normally, and have your teeth checked regularly by Dr. McDonald and our team.
The bonding material is strong but it can stain, chip or break under certain circumstances over time. Protect your bonding from damage by not chewing on ice, shells or other hard objects or using your teeth to open bottles or packages. If you notice the bonding has chipped, cracked or become stained, it will require replacement.
With the proper care and precautions, the results of dental bonding can last for several years.
Learn More About Dental Bonding
If you are interested in learning more about dental bonding or other cosmetic dentistry solutions, Dr. McDonald invites you to call or send us an email today.