At McDonald Family Dentistry, the health and safety of our patients is at the forefront of our minds in the evolving COVID-19 pandemic.
We have implemented extra safety measures to keep you and our team healthy and reduce the risk of COVID-19 transmission. Patient care and staff safety require us to make some changes to our practice, such as adjusting some aspects of our physical office space and implementing new processes and procedures.
We assure you that none of these precautions will detract from the excellent care you have come to know and love from McDonald Family Dentistry. Expect the same friendly, helpful and positive attitudes from our staff!
What We Are Doing To Ensure Patient Safety
Here are some of the steps we are taking to ensure patient safety:
We are increasing the frequency of our cleaning and sterilization practices in our already spotless waiting area. The reception area is frequently deep cleaned and plexiglass shields have been installed at the check-in and check-out stations for your safety. We are not offering magazines, children's toys or coffee in our waiting room.
We are asking that upon arrival, you wait in your car until our team is ready for your appointment. We will send you a text message when it is time to come into the office. Upon entry, we are prescreening all patients and taking everyone's temperatures to ensure the safety of our office environment.
Our team has newly updated uniforms with CDC-recommended personal protective equipment (PPE), including upgraded masks, face shields and gowns, to minimize risk of virus transmission.
Each patient operatory room is equipped with an air-scrubbing HEPA filtration system, which purifies the air regularly, as well as UV-C light and Aegis Aerosol VacStation. These pieces of equipment ensure patient safety and help sanitize and disinfect our workspaces.
We are cleaning and disinfecting surfaces in each patient operatory room after every appointment.
We are cleaning and disinfecting other public areas frequently, including door handles, chairs and bathrooms.
We have instituted sterilized receptacles to hold your belongings (e.g., phone, keys, purses) during visits.
Our entire staff understands these additional safety measures and can clearly explain them to you during your appointment.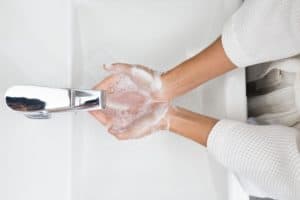 We are asking all patients to take a few additional safety precautions:
If you or anyone in your household has been sick in the past two weeks, we encourage you to reschedule your appointment.
If possible, please do not bring any guests, like a friend, to your appointment. One guardian is permitted into the office for our minor patients.
Please wash your hands often, including before and after your visit, and take advantage of the hand sanitizing stations we have set up around our office.
Please wear a facemask in our office, except while receiving treatment. We may ask you to rinse with a disinfectant mouthwash at the beginning of your appointment.
Follow the other COVID-19 safety precautions recommended by the CDC.
Rest assured that McDonald Family Dentistry has you and your family's well-being in mind at all times. We are prepared and equipped to offer excellent care during these unsettling times.
If you would like to speak with a member of our team about any concerns you have, please don't hesitate to contact McDonald Family Dentistry by calling or sending us an email.