Losing teeth does not have to ruin your smile and your confidence. With the placement of dental implants, you can recapture a complete smile, restore chewing function and regain the oral health you once enjoyed.
Unlike other tooth replacements, dental implants are anchored in your jawbone for unparalleled strength, stability and comfort. The implant actually fuses to the bone cells of your jaw, becoming part of your anatomy. This support offers peace of mind that your artificial tooth or teeth won't shift or slip out of place when you eat, or give you any trouble when biting into a crisp apple or enjoying a handful of pretzels.
Dental implant treatment is complex and best left to a knowledgeable, experienced professional like Dr. Chris McDonald. With his help, you will be amazed by the strength and beauty of your smile, and feel confident that you made the right choice for your oral health.
Benefits of Dental Implants
Replacing one or more missing teeth with dental implants simply makes sense. Here are some of the benefits to consider:
Dental implants look, feel and function just like regular, healthy teeth.
Your artificial tooth or teeth will be meticulously designed and constructed to blend in with your remaining natural teeth.
By replacing the root of your tooth, dental implant posts keep your jawbone stimulated and reduce the risk of jawbone loss.
Reducing the likelihood of jawbone loss lowers the chances of additional tooth loss and other complications, such as changes in your facial appearance (a "sunken" look).
Because dental implants are anchored in your jawbone, they do not shift, slip out of place or make embarrassing noises like clicking or popping. Your implants will not interrupt your ability to bite, chew or enunciate.
You can enjoy all of your favorite healthy foods, including crunchy foods like fruit, raw vegetables and nuts. You will not miss out on nutritious foods because of weak or failing teeth.
Dental implants do not rely on the neighboring teeth for support, so they won't cause those teeth to wear down or lose their strength.
Unlike bridges and dentures, which need to be periodically adjusted, dental implants usually do not need any special maintenance.
Dental implants do not require any special care like adhesives or cleaners. You can brush and floss your dental implants just like regular teeth.
Dental implants close gaps and spaces that can harbor bacteria.
Implants have a 95 percent overall success rate, according to the American Academy of Oral and Maxillofacial Surgeons.
Another important perk of dental implants is that they are versatile. A single dental implant can replace one tooth lost to gum disease or injury. Two implant posts can anchor a bridge or partial denture to replace several teeth. And several implant posts can support a complete upper and/or lower arch of missing teeth.
Dental Implant Placement Details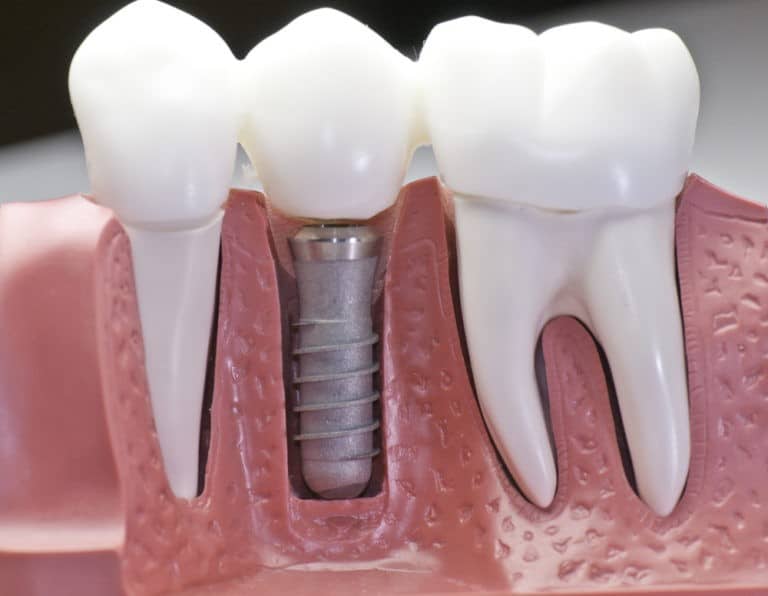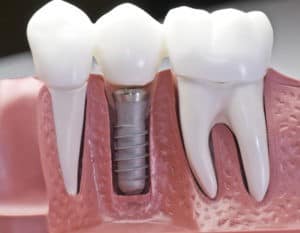 Because of a dental implant's design, the placement process involves multiple steps.
Implant Post
First, a surgical procedure is performed to place the implant post in the jawbone to serve as the artificial tooth root. A small opening is created in the jawbone beneath the gap left by the missing tooth. The post or screw is placed deep in the jawbone. A temporary restoration can be placed over the gap where the tooth is missing to serve as a placeholder until the permanent restoration is ready.
The implant post or screw needs time to integrate with the bone and become part of the bone's anatomy. The process of the jawbone uniting with the implant post or screw is known as osseointegration, and it usually takes several months.
The Abutment and Artificial Tooth
Once the post or screw has properly fused with the jawbone, it is time to place the other two components of the implant: the artificial tooth and the abutment. Sometimes the abutment and tooth are already connected and can be placed together, and sometimes the two pieces are placed separately.
If the pieces are separate, the abutment may be placed and the gums left to heal around the piece before the false tooth is attached. Once the false tooth is screwed or cemented onto the abutment, it is fixed into place and cannot be removed, except by Dr. McDonald.
Bone Grafting (if Necessary)
Sometimes an additional procedure like bone grafting is required to prepare the jawbone to retain and support an implant. Bone grafting creates a more solid foundation to hold the implant in its proper position. If you require grafting, the grafts may be synthetic or taken from another location in your body. Although these additional procedures add to the total treatment time, they ensure the durability and longevity of your implants.
Dental Implant Recovery and Results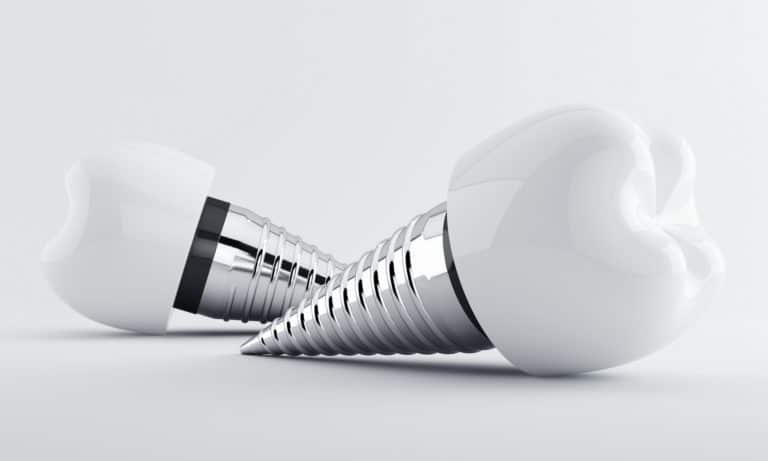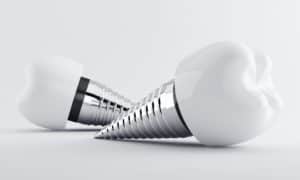 Initially after your implant has been placed, the implant site might be swollen and your mouth may feel sore. Dr. McDonald suggests you eat only soft foods while the implant site heals.
It may feel like you have a foreign object in your mouth, particularly if you did not have a tooth in that area for a long time. Gradually, you will adjust to the look and feel of your implant and reap the benefits of your permanent tooth replacement.
Just as you must keep your natural teeth clean with excellent oral hygiene, it is important to brush and floss your implant daily. Also, you should see Dr. McDonald at least every six months to ensure the integrity and health of your implant and natural teeth.
Dental implants are extraordinarily strong and durable, but they can be damaged by certain habits. Refrain from biting or chewing on hard objects like ice or shells, as these items can hurt your implants and natural teeth. If you grind or clench your teeth while you sleep, ask Dr. McDonald about getting fitted for a protective mouth guard to wear at night.
How to Schedule a Dental Implant Consultation
If you would like more information about dental implants, Dr. McDonald invites you to schedule a consultation at our practice. Please contact McDonald Family Dentistry by calling or sending us an email.