Healthy gums are an essential part of a healthy mouth. Unfortunately nearly half of American adults over the age of 30 have some form of gum (periodontal) disease. Gum disease is sneaky, as it sometimes advances "silently," without causing noticeable symptoms. Left untreated and undetected, gum disease can lead to tooth loss and other devastating complications.
With the help of Dr. Chris McDonald, you can enjoy healthy, clean gums for life. Dr. McDonald is trained to look for signs of periodontal disease as early as possible, so he can treat it before it becomes a bigger problem. Early detection offers the best chances for rehabilitation with minimally invasive treatment.
Understanding Periodontal Disease
Gum disease is an infection of the tissues holding the teeth in place. The most common cause of gum disease is poor oral hygiene. If you do not routine brush or floss your teeth, a sticky film of bacteria called plaque can build up, creating toxins that damage your gum tissue. Other factors, such as genetics, tobacco use and diabetes can increase the risk of developing gum disease.
Types of Gum Disease
There are two stages of gum disease. The early stage is called gingivitis, and the advanced stage is called periodontitis. As gum disease advances, the inflammation from the infection can cause "pockets," or spaces, to form around the teeth. Bacteria and plaque like to hide in these pockets.
Symptoms
Although it is possible for gum disease to advance without pain or symptoms, warning signs of gum disease include the following:
Red, swollen or tender gums
Receding gums or gums that appear to pull away from your teeth
Bleeding gums
Pus in between the gums and teeth
Chronic bad breath
Changes in the way your teeth fit together when biting down
Loose teeth
Treatments for Periodontal Disease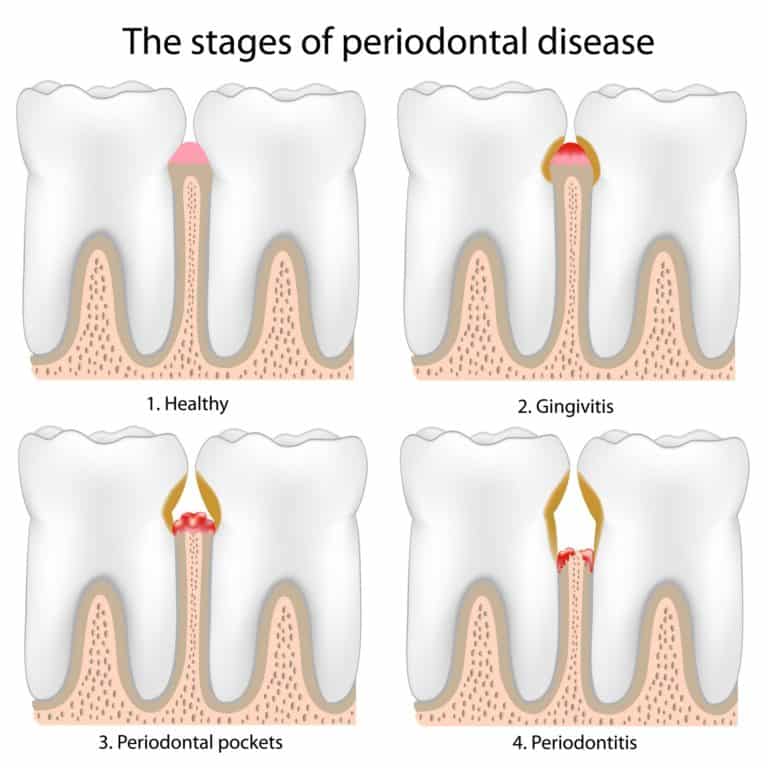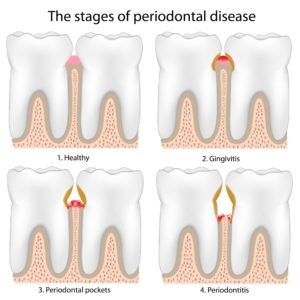 If you have gum disease, Dr. McDonald has a solution for you, no matter what stage the disease is at, or how serious it is. He will create a unique treatment plan to help restore your gums to excellent health.
Scaling and Root Planing
Most cases of gingivitis can be reversed with excellent oral hygiene and deep cleaning known as scaling and root planing. During deep cleanings, Dr. McDonald and our team carefully remove plaque and hardened plaque from the tooth roots below the surface of the gums. We also smooth the tooth roots, making it harder for bacteria to accumulate there in the future. Sometimes Dr. McDonald recommends antibiotics if he believes the medicine could help.
Periodontal Pocket Reduction and Bone Grafting
Cases that have progressed to periodontitis require more extensive treatment. Dr. McDonald may perform periodontal pocket reduction to clean out deep pockets that form around the teeth, or he may use a soft tissue laser to remove damaged gum tissue. Very advanced cases may require gum or bone grafting to rehabilitate the structures holding the teeth in place.
Preventing Gum Disease
Prevention is an important part of the conversation about gum disease. Preventing gum disease before it starts can help you avoid future pain, discomfort and time-consuming, extensive treatment.
Dr. McDonald and our team routinely check for signs of gum disease during every exam. We can advise you of at-home oral hygiene habits to practice to thoroughly remove bacteria and food debris trapped between your teeth and along your gumline. We can also educate you about whether your age, health history or lifestyle put you at an increased risk of gum disease; if so, we will share strategies to mitigate that risk.
For more information about periodontal care, please call McDonald Family Dentistry or send us an email.